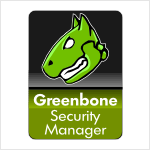 Greenbone Networks delivers a vulnerability analysis solution for enterprise IT which includes reporting and security change management.

The essence of our solutions is transparency. We leverage the dynamic organizational processes of the Free Software approach on professional grounds, staying connected to the roots. We add a comprehensive quality assurance process for our customers and are particularly concerned with providing a verifiable product rather than a black box.

The company was founded in 2008 by leading experts in the field of network security and Free Software. Our goal is to engineer products and concepts able to cope with the present and future challenges of preventing successful attacks to your network. We especially focus on the precautionary measures because it is most risk/cost efficient to detect network vulnerability earlier than attackers do. Greenbone is a privately owned company located in Osnabrück, Germany.

The Greenbone Security Manager (GSM) is a Vulnerability Management Solution that seamlessly and transparently integrates into your Security and GRC strategy, providing Vulnerability Assessment, Vulnerability Intelligence and Threat Management capabilities in the form of a dedicated or virtual appliance. Identifying breaches of corporate security policy and regulations is covered as well.

With a strong focus on 3rd Party integration and open standards, the GSM is a best of breed security solution that enhances and supplements security posture and allows a proactive approach to automated Vulnerability Lifecycle Management.